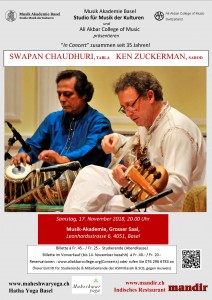 Click on image to enlarge.
We are happy to announce the annual concert of Ken Zuckerman & Swapan Chaudhuri that will take place on November 17, 2018 in the Grosser Saal of the Musik Akademie, Basel. Ken & Swapan have been performing together for over 35 years and their music is also greatly influenced by their long association with the master of sarod, Ustad Ali Akbar Khan.
Wir freuen uns, Sie über das alljährliche Konzert von Ken Zuckerman – Sarod & Swapan Chaudhuri – Tabla informieren zu können, das am 17. November 2018 im Großen Saal der Musik Akademie, Basel stattfinden wird. Ken & Swapan treten seit über 35 Jahren zusammen auf und ihre Musik ist u.a. stark durch die langjährige Verbindung mit dem Meister der Sarod, Ustad Ali Akbar Khan, beeinflusst und geprägt.
To watch one of Ken & Swapans' videos please click here.
For more about Ken Zuckerman visit his Website.
For more about Pandit Swapan Chaudhuri visit his Website.