Dear Friends, we are happy to inform you that this year marks the 35th anniversary of the Ali Akbar College of Music, Switzerland. This important milestone will be celebrated with both concerts in the Salon de Musique as well as a Gala concert at the Musik Akademie Basel on November 14. The first concert of our season will feature Shrinivas Joshi, son of the legendary late Bhimsen Joshi, who we also had the honor of presenting in Basel in 1992. This concert will take place on March 21st at 8 PM in the Salon de Musique of the Ali Akbar College in Basel. Shrinivas Joshi will be accompanied by Amol Nisal on Harmonium and Shrirang Mirajkar on Tabla.
Shrinivas Joshi trained under his parents in the Kirana Gharana tradition. He accompanied his father for many years and has been a soloist since 2001. In addition to singing in the Khayal style of North Indian classical music, he also performs lighter genres including Thumri and Bhajans.
We are also happy to announce that you can now make reservations and purchase tickets in advance by clicking the following link. This is especially recommended for concerts taking place in the "Salon de Musique", which has very limited seating capacity.
We look forward to welcoming you in the Salon on March 21st!

Wir freuen uns sehr Ihnen bekannt geben zu dürfen, dass das Ali Akbar College of Music in der Schweiz dieses Jahr sein 35jähriges Jubiläum feiert!
Dieser wichtige Meilenstein wird sowohl mit Konzerten im Salon de Musique, als auch mit einem Galakonzert in der Musik Akademie Basel am 14. November 2020 gefeiert. Shrinivas Joshi, der Sohn des legendären verstorbenen Bhimsen Joshi, wird die Konzertreihe eröffnen und wir hatten bereits im Jahr 1992 die Ehre, seinen Vater in Basel präsentieren zu dürfen. Das Konzert findet am 21. März 2020 um 20.00 Uhr im Salon de Musique des Ali Akbar College in Basel an der Birmannsgasse 42 statt. Shrinivas Joshi wird von Amol Nisal am Harmonium und Shrirang Mirajkar am Tabla begleitet.
Shrinivas Joshi studierte Gesang unter der Leitung seiner Eltern in der Kirana Gharana Tradition. Er begleitete seinen Vater viele Jahre und ist seit 2001 Solist. Er singt nicht nur im Khayal-Stil der nordindischen klassischen Musik, sondern spielt auch leichtere Genres wie Thumri und Bhajans.
Wir freuen uns auch Ihnen mitzuteilen, dass Sie jetzt im Voraus Reservierungen machen und Billette bestellen können. Klicken Sie dazu auf den Link unten. Dies ist für Konzerte im "Salon de Musique" besonders empfehlenswert, da die Sitzplatzkapazität sehr begrenzt ist.
Wir freuen uns darauf, Sie am 21. März im "Salon de Musique" begrüßen zu dürfen!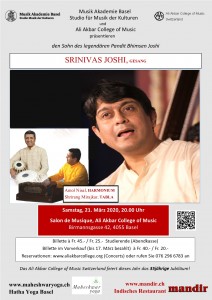 (Please click on the image to get a full view.)